Take Heart
May 15, 2019
I have told you these things, so that in me you may have peace. In this world you will have trouble. But take heart! I have overcome the world. (John 16:33)

And oh boy, troubles, we had!
On March 30, we were going home from Manila after the PET/CT but the check-in counter closed on us by 4 minutes. 4 minutes! We knew it was our fault but we would've been very grateful for a little consideration as I was sick. Instead of flying at 8 AM, my sister and I flew at 4 PM. We spent the hours in between at an inn near the airport, where I vomited and rested.
When we arrived at Cagayan de Oro, we went straight to the hospital. I was admitted. Diagnostic tests were done and I was prescribed for a blood transfusion. I never had a reaction with blood transfusions before, but that night, just when the blood was completely transfused, I began to itch in my ears and around my mouth. The nurse had to give me diphenhydramine intravenously. I felt dizzy, drowsy, and heavy. My parents panicked but we were told that these were the awful side effects. My heart was beating weirdly. I felt like floating. I was scared. Is this how one feels when high on drugs? I had suddenly had the urge to pee! Physically and mentally uncoordinated, I wet my bed.
On April 2, I was discharged. My oncologist advised that we apply for the patient access program on one of my drugs, rituximab, so we can get a discount as it costs more than Php 100,000 per vial and that I start chemotherapy once we take hold of it. She explained that my treatment will be RCHOP (rituximab, cyclophosphamide, hydroxydaunomycin, oncovin, prednisone) for 6 cycles with 3 weeks interval, adding that I might have 8 infusions of rituximab.
We were worried for the delay in treatment but we also understood the financial considerations. I was anxious of the mediastinal tumor, the lesions on my lungs and kidneys, and the abnormal lymph nodes on my chest and abdomen. I could imagine my compromised anatomy as described in my PET scan. I prayed to the Lord to protect my mind and to help me be patient. I also prayed for financial provision. I have no source of income as I had to take an indefinite leave from my work. I am dependent to my parents and it makes me sad to burden them. This treatment is costly and my heart aches for the resources we spent on surgery, chemotherapy, and radiation therapy for thymoma, a misdiagnosis, when we could've spent it on this treatment. If only I were diagnosed correctly and had the right treatment immediately, I could've even been spared from complications; now, I have maintenance medications for my heart and clots. But it made me more grateful for this life, a walking miracle! And, looking back, the Lord has been good and faithful in that one year detour. I just have to remember His past provisions and know that He will take care of me. Alleluia! The Lord did.
We were accepted in the patient access program and given a 40% discount of the rituximab. Financial support from family and friends also began pouring in. Fundraisers were started—a campaign in Facebook by my cousin, Leni Fae, and a movie block screening by Mark, a big brother from my college political party, Alyansang Atenista. Meanwhile, my brother decided with his Blu teammates to redirect the proceeds of their fundraising frisbee tournament, supposedly for their game in Bohol, to my treatment. I was overwhelmed with the support. It brought me to tears. I felt the hands of the Lord through these people. It was humbling and I felt undeserving. My heart was filled with so much gratitude but my mind was being attacked by the devil—I am flawed, I am a sinner, and I am not a good person. I had to take captive of my thoughts—I am loved, I am forgiven, and I am redeemed. This is God's grace, an unmerited favor!
On April 11, the rituximab was delivered at 4 PM. This is it, I thought. Chemotherapy, again. I was so nervous that my temperature went up to 38°C. The treatment, the journey, can be traumatic. We went to the hospital and I was held in the Emergency Room (ER) for a while. The isolation room in the ER was occupied so I was placed in the far end where 2 beds were behind a curtain. There was an elderly patient already in the other bed. And, she was coughing. Oh no. I secured my mask firmly. The elderly patient was then wheeled in to her room. After a while, another patient was placed in the other bed. I listened as the nurse interviewed her. Earlier that day, she visited her obstetrician only to find that her baby had no heartbeat. She miscarried. She's for emergency dilation and curettage. My heart broke for her and her little angel. I wanted to pray for her. I prayed for her in my head but something in me was nudging me to talk to her and pray with her. I haven't prayed over a stranger. I don't have that boldness. What if I will be rejected? While she was quietly conversing with her sister, I was having an internal battle. Isn't this the opportunity I have missed while I was working in the Operating Room? To pray with the patients? When a moment came that we were both left alone, I took it as a sign and introduced myself. She did not reject me. I prayed for protection, for comfort, and even for a miracle. We were both in tears as we experienced the frailty of human life. I will always remember you and your little angel, Marites.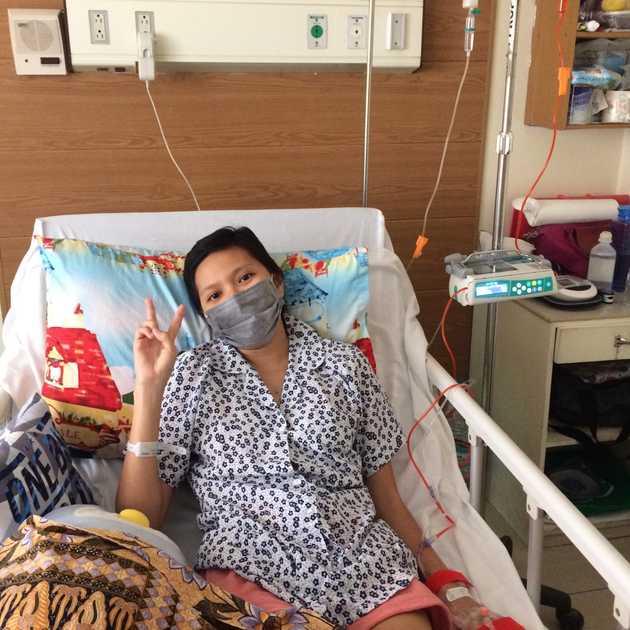 On April 12, I had my first RCHOP chemotherapy session. I was discharged the following day. Each session or cycle consists of 21 days and side effects usually set in the first few days while the body is expected to have recovered around the 7 days prior to the next cycle. On Day 2, I was in a low mood. I cried. On Days 3-6, I had low energy and slept the whole day. On Day 7, I was in pain—a muscular/bone/burning pain around my torso. On Days 11-14, my mouth sores worsen. Some bled. I could not eat, nor talk. I could not brush my teeth. On Day 14, I also started losing my hair. Again. On Day 16, mouth sores started to heal. And on the same day, I had my hair shaved. On Day 20, I had pre-chemo blood work then I'm off to the next chemotherapy session. Whew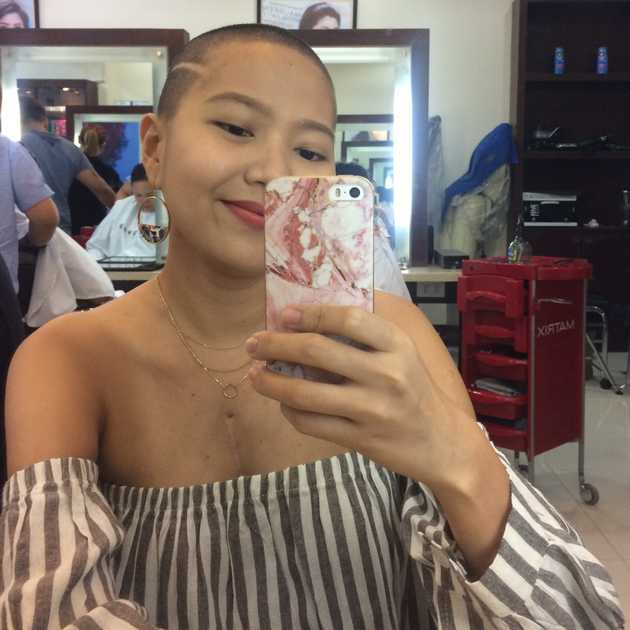 My subsequent sessions are planned as out-patient. On May 2, I had my second chemotherapy session. I was the first patient to arrive and I was such in a good mood I don't want the curtain to be closed because I want to strike conversations with the other patients—one with lung cancer and two with breast cancer. Our diagnoses, treatments, and journeys may be different but we have kindred spirits.